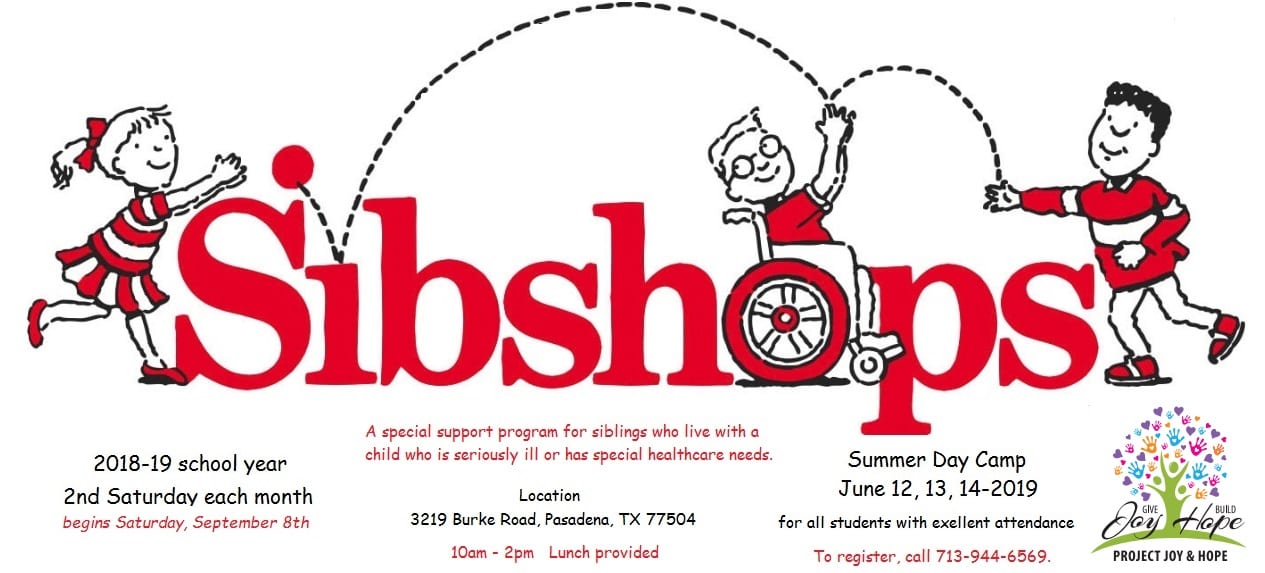 Project Joy & Hope is thrilled to announce the creation of a Sibshop in your area. This is an exciting program just for brothers and sisters of kids who are seriously ill or those with special needs. During the Sibshop, brothers and sisters will:
Meet other brothers and sisters of children with serious illnesses or those with special needs
HAVE FUN!
Talk with others who "get it" about the good (and sometimes not so good) parts of having a sib with a serious illness or special needs
Learn more about the illness or special needs and have a better understanding about what their sib is going through
HAVE SOME MORE FUN!
Who are Sibshops for? Sibshops are for 8-13 year old brothers and sisters of children with serious illnesses or special needs.
Who sponsors Sibshops? Sibshops are a collaborative effort between Project Joy & Hope, The Children's Fund, Local Business Partners, and Local School Districts.
Who runs Sibshops? Our Sibshops are run by facilitators who have a professional and, in some cases, a personal understanding of the impact a child's illness or special needs can have on their brothers and sisters. Equally important, they all have amazing kid skills! There may also be junior facilitators who are sibs themselves in their late teens.
When are Sibshops held? Sibshops will be held on the second Saturday each month beginning Saturday, September 8th 10am-2pm with lunch provided. The Sibshop program will be capped off by a special 3-day summer camp for those with good attendance. This will be an outstanding time for fun and fellowship for your child.
What is the cost of a Sibshop? Each Sibshop will cost $5 per session, which includes lunch. A limited number of scholarships will be made available.
How do I register for a Sibshop? For more information and to register, fill out our online form, or download the PDF application form and return it to us. Call Project Joy & Hope's offices at 713-944-6569 with any questions or to apply by phone. Hurry! Space is limited.